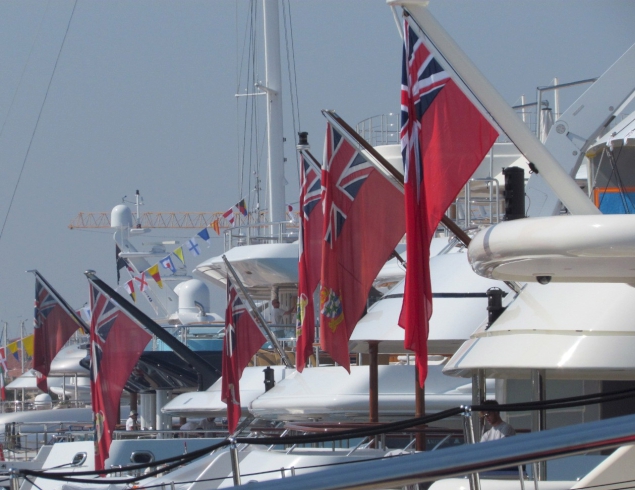 Raising the wrong flag entering a port could lead you to signalling incorrectly and potentially breaking the law. As a Captain / Skipper on board and in charge of the vessel, we should be aware of the rules and regulations regarding flags.
Where would we position the flag and what kind of flag:
As close to the stern of the vessel as possible.
The Ensign (flag) shows the country of registry of the vessel and indicates its nationality.
A UK flagged vessel must wear her ensign as required by the Merchant Shipping Act, which includes when entering or leaving a foreign port and on demand. It is recommended that the ensign is worn at all times in daylight, especially when near to or in sight of land or another vessel.
A UK registered vessel should wear the national maritime flag, the Red Ensign.
Wearing anything other than an authorised Ensign is a violation of British and International Law.
Club burgees are flown at the main masthead, typically the port side of the mast head. A burgee must match a special Ensign if one is worn and it should always be higher than the Ensign.
The starboard spreaders or mast side are used for signalling. This is where both a courtesy flag (of the country you are visiting) and the Q flag (nothing to declare flag, yellow), as signals, should be flown.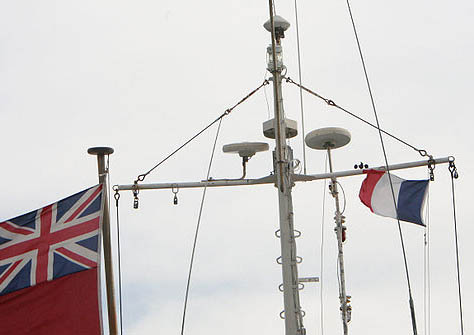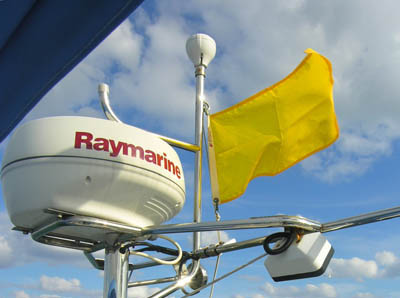 "There is no legal requirement to fly a courtesy flag; it is a courtesy that acknowledges that the vessel will respect the laws and sovereignty of that country. However, if one is not flown or it is tatty or faded, it may cause grave offence and in some countries can lead to a fine."
Other flags:
"The Union Jack, Welsh Dragon, the Crosses of St Andrew, St George and St Patrick and the EU flag are primarily land flags and must not be flown at sea as an Ensign by cruising yachtsmen. At sea the cross of St George is the flag of an Admiral and it should therefore not be flown by anyone else, without special dispensation. A vessel flying the St Andrew's Cross could be mistaken as saying "my vessel is stopped and making no way through the water" as this is the meaning of code flag M which has the same design and the St Patrick s Cross could be misinterpreted as code flag V "I require assistance".