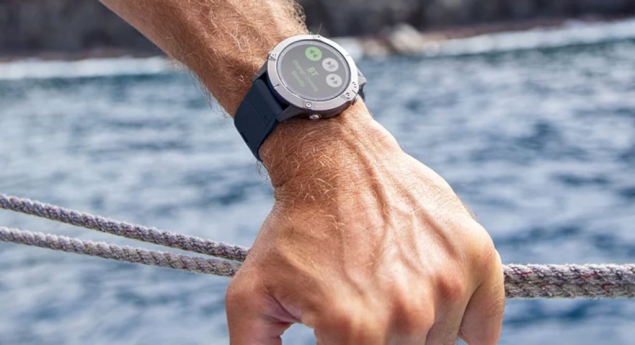 Garmin has launched the quatix 6, a marine GPS smartwatch series designed specifically for life on the water. It's said to feature specialised boating, fishing, cruising and sailing capabilities, including connectivity with compatible Garmin chartplotters and other marine electronics to offer autopilot control, data streaming, sail race assistance, and Fusion-Link™ entertainment control.
With daily activity tracking the device also allows users to receive alerts on their wrist for incoming calls, texts, emails and more and also has contactless payment.
The quatix 6 acts as a wearable instrument that, when paired with onboard Garmin electronics, can stream NMEA® 2000 boat data to give users access to important sensor information like speed, depth, temperature, and wind data. When the quatix 6 is paired with an onboard autopilot, it can also be used to control the autopilot to change heading, engage pattern steering, and follow a GPS route.
With a quatix 6, it's easy to mark and save a waypoint from anywhere on the boat without having to return to the helm. The quatix 6 also adds support for optional BlueChart® g3 charts with integrated Navionics® data, so it can be utilised as both a dedicated or back-up navigation tool.
Specifically designed for the water, the quatix 6 gives mariners up-to-date tide data downloaded for their chosen area through a smartphone, and will have access to that data for seven days. It's also equipped with an anchor alarm to warn users of drift and an anchor rode calculator that tells the user the proper length of anchor line to put out. For fishing, a competition timer and fish catch log are available to help users keep track of the fish they've caught and the time remaining before getting back to weigh-in. The watch has SailAssist™ capabilities with sail racing features like virtual starting line, distance to start line, race countdown timer and tack assist.