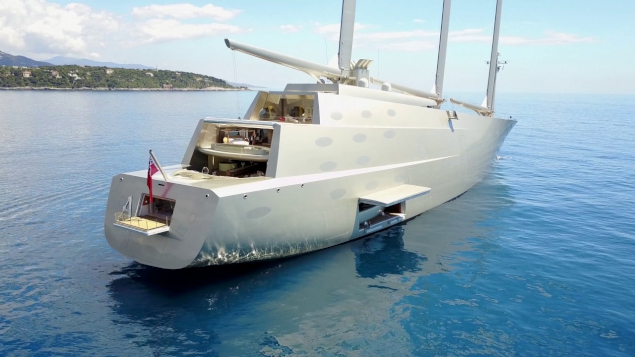 A significant Nobiskrug project is the 142.8-meter S / YA, the largest supporting sailing yacht built for Andrei Melnichenko.
Work on the project began in 2008. Then eight designers were invited to present their versions of the world's largest sailing yacht. The Frenchman Jacques Garcia won the competition, but later, due to concerns about progress in the development of the project, the customer decided to change the designer. So Philip Stark joined in on Sailing Yacht A.
The three-masted sailing-motor yacht "A" has a maximum length (LOA) of 142.81 meters, a maximum width of 24.88 meters, an 8-meter encapsulated keel and a displacement of approximately 14,224 tons.
To bring together such unusual architectural and design ideas. The choice fell on the Nobiskrug yard in Germany.
The Dutch company Dykstra Naval Architects acted as developers of the hull and keel. The designer of three huge 91-meter masts was Magma Structures from the UK, with Future Fiber from Valencia creating the geeks for them and the sails from Doyle Sails from the USA.
The massive hull and superstructure of the yacht are made of steel; to reduce weight, some of their elements are made of carbon fiber.
From the significant projects Benetti should point out the 108-meter IJE, delivered in 2019 for the Australian billionaire James Packer.
Benetti IJE - one of three yachts more than 100 meters high, built at the same time at the shipyard in Livorno, has a balanced and timeless exterior designed by the British studio RWD.
The open spaces on board cover more than 1000 square meters and feature luxury items such as a separate outdoor dining area on the owner's deck and a large family dining table on the main deck. There is also a 1.5-meter fire pit on the bridge deck.
The interior was designed by Benetti's own interior design department. The apartments can accommodate up to 22 guests, there is also room for a team of 29 crew members.
IJE can cover up to 6,500 nautical miles with its 345,000-liter fuel tank and reach a top speed of up to 18.5 knots using its two powerful MTU dual engines, each with 2880 kW. The yacht is also equipped with an Schottel Stern SPJ electric pump.