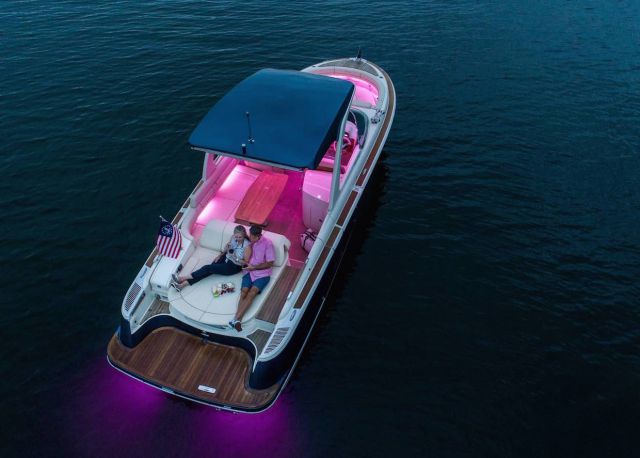 Lumishore has launched what it claims is the world's first marine-grade fully colour-tunable DC smart interior / exterior lighting system.
What the Lux lighting collection offers boat owners is full spectrum, CRGBW, colour-tunable and white temperature tunable lighting all in the same DC fixture for an unlimited combination of colours and intensity.
The centrally controlled nature of LUX delivers colour consistency throughout an entire vessel for a balanced and unified look.
Simple to set up and use, owners can control the lights by zone and create lighting scenes to match any mood.
Five-channel
The LUX Lighting system offers strip, neon flex, down and courtesy fixtures. Each has five-channel CRGBW (cold-white/red/green/blue/warm-white) LEDs.
The benefit of LEDs with cold and warm white over RGB/RGBW is that they produce the highest CRI (colour rendition index).
By integrating these LEDs directly into the fixture, Lumishore says its lights are able to produce an almost infinite combination of hues, saturation and temperature, which has never been done before in a DC-powered LED light.
The controls are also designed to be straightforward, with a simple-to-use palette wheel for colour selection and a horizontal slide bar for quick adjustments to lighting intensity and white balance in each RGB colour.
Lighting can also be managed across multiple zones using optional pre-sets to create different moods and effects.