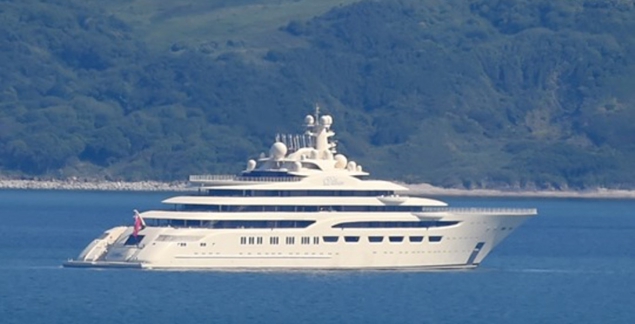 One of the world's biggest superyachts arrived in
Weymouth
Bay after a week-long voyage from Barcelona, via Southampton.
The 156-metre Dilbar, said to be worth $650m, is the largest yacht in the world in terms of gross tonnage (15,917) and interior volume, according to the Dorset Echo.
She is owned by Russian billionaire Alisher Usmanov, who is not thought to be on board.
Two years ago, Usmanov was estimated to be Russia's fifth richest man, with a net worth of $16 billion. He is best known in business circles as the main shareholder of USM Holdings.
According to
Superyacht Times
, the 156-metre Lürssen yacht, originally known as Project Omar, was launched in 2016 after nearly four and a half years in-build. On board, she can accommodate 36 guests across 20 cabins, and is taken care of by a crew of 96.
Her most notable features are the two helipads located on the bow and aft of the upper deck. These helipads can safely hold Dilbar's dedicated H175 helicopter for up to seven passengers. On board, Dilbar features a 25-metre pool containing 180 cubic meters of water, one of the largest pools ever installed on a yacht.
Thanks to modern technological innovations and a 30,000kw diesel-electric power plant, Dilbar is able to reach a top speed of 22.5 knots.