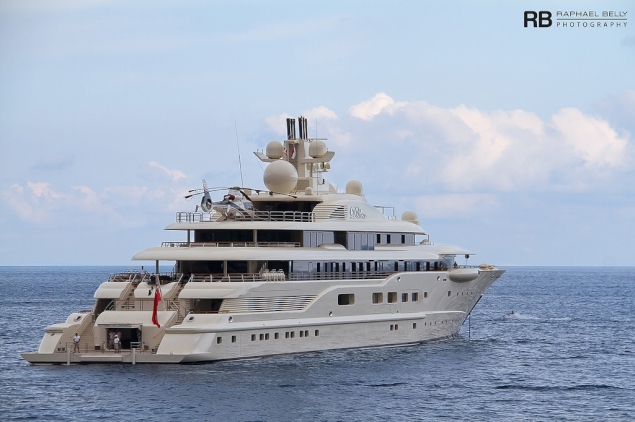 Ona, the 110-meter Lurssen superyacht formerly known as Dilbar, has now been renamed to Raya, AIS records show. This follows the yacht being sold to, reportedly, a Middle Eastern buyer after being listed on the brokerage market at the end of 2016 asking €250 million.
Built for Russian billionaire, Alisher Usmanov, Ona was launched under the name Dilbar in 2010, the 110-meter yacht carries a crew of 41 and can accommodate up to 16 guests. Renamed to Ona in 2016, the yacht was put on the market following the delivery of the 156m flagship Dilbar, the largest yacht in the world by gross tonnage, to her owner.
Marketing materials show key amenities onboard Ona include a private cinema, a helipad and a conference room sitting 12 directly connected to the owner's suite, which offers a 180-degree view overlooking a private foredeck, an aft terrace as well as a full-beam office.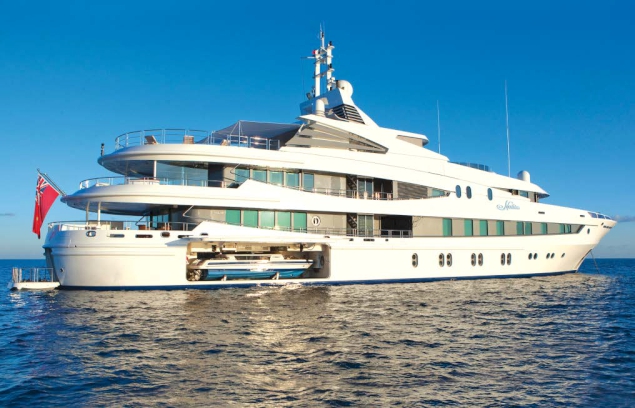 Although Dilbar's construction costs are unknown, the 110-meter Radiant, a similar yacht, which was built by the late Russian billionaire Boris Berezovsky and later sold to the Al Futtaim family for €240 million, cost €148.5 million to build before interior fitting costs according to court documents. The total cost of construction of Radiant would have been near €200 million.
Sold earlier this month, the 110-meter Ona found a buyer in a competitive market, particularly active recently for megayachts. Jubilee, a 110-meter Oceanco new build is currently seeking a buyer at a price tag near that of Ona. Ulysses, 107-meter in length, sold last year at an asking price of near $180 million.
The first Dilbar superyacht to be delivered to Usmanov became a 66-meter Oceanco. Launched in 2005 by the Dutch shipyard, the first Dilbar was a significant step forward for the yard thanks to the 66-meter's innovative features such as her spa pool and beach club. Both well ahead of their time.
With an interior by Alberto Pinto as well, she became one of the most sought-after yachts on the water. Her rounded aft as well as her impressive 1,801GT of interior volume made her stand out from the crowd on the exterior. Inside, amenities included a private cinema, spacious cabins on the main deck, a vast dinning room and a salon with a piano.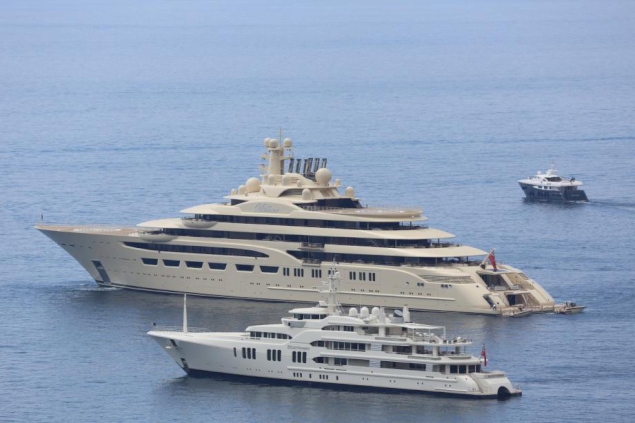 Shortly prior to the delivery of his second Dilbar, Usmanov renamed the 66-meter to Ona in 2008 and subsequently put her on the brokerage market. The yacht was then sold in 2010 to US oil mogul, William Kallop at an asking price of €59.9 million. The yacht later founds its way into the hands of Goldman Sachs, who sold the yacht last year for $39.9 million.
After taking delivery of the 110-meter Dilbar, Usmanov moved on to a bigger project and eventually built the 156-meter Dilbar at Lurssen by 2016. With an exterior design by Espen Oeino, Dilbar now has a gross tonnage of 15,917 tons, hence topping Al Said's 15,850 tons and Azzam's 13,136 tons.