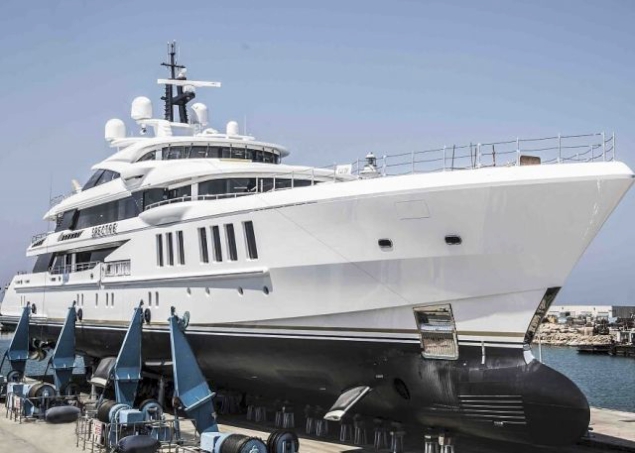 Benetti has launched a 69m custom mega yacht with a steel hull and an aluminium superstructure on five decks featuring a swimming pool and a 'touch and go' helipad.
Spectre, which pays tribute to James Bond, is the third yacht launched by Benetti for New York businessman John Staluppi and its Mulder Design-created hull is fitted with the new Ride Control technology by Naiad Dynamics. The system significantly increases stability during navigation and improves comfort on board with the help of four stabilising fins and three vertically-adjustable blades.
The vessel's contemporary exterior is courtesy of Giorgio M. Cassetta, who said: "I'm very fond of Spectre. It's the perfect example of a virtuous confluence between the ideas of the owner and the shipyard. John and Jeanette Staluppi, with their immense experience and energy, have spurred us on to imagine a yacht complete with everything that could be desired on a boat this size.
"Benetti accepted the challenge of building it to the highest standards and with a wealth of innovative technology. The splendid result is a satisfaction that my firm will treasure in the years to come."
Efficiency focus
The lines of the 'hi speed cruising hull', designed by Dutch firm Mulder Design, have been created to deliver maximum navigation efficiency, with a range of 6,500 nautical miles at 12 knots and a top speed of 21.2 knots, 30% more than a traditional displacement hull.
Benetti is planning seven full custom yacht deliveries in 2018/2019, including three giga yachts over 100m each.