Rule 2 of the International Regulations for Preventing Collisions at sea is often over looked by the very experienced navigators and skippers, we all try and use common sense and abide by the rules, but occasionally some forget that if a risk of collision exists, we must do all we can to avoid a crash even if we think that the other person must give way to us.
Rule 2 states:
(A) "Nothing in these rules shall exonerate any vessel, or the owner, master or crew thereof, from the consequences of any neglect to comply with these Rules or of the neglect of any precaution which may be required by the ordinary practice of seamen or by special circumstances"
(B) In construing and complying with these rules due regard shall be had to all dangers of navigation and collision and to any special circumstances, including the limitations of the vessels involved, which may make a departure from these rules necessary to avoid immediate danger.
Some follow the rules by the letter and in some circumstances it would be dangerous to do this, but occasionally you are required to depart form the rules to avoid a collision at all costs. If for example a small motor vessel is head on with a large motor vessel in a narrow channel, Rule 14 states that both vessels should alter course to starboard. It would be sensible in this case to allow the larger vessel to remain in the deeper channel and for the smaller vessel to alter course to port.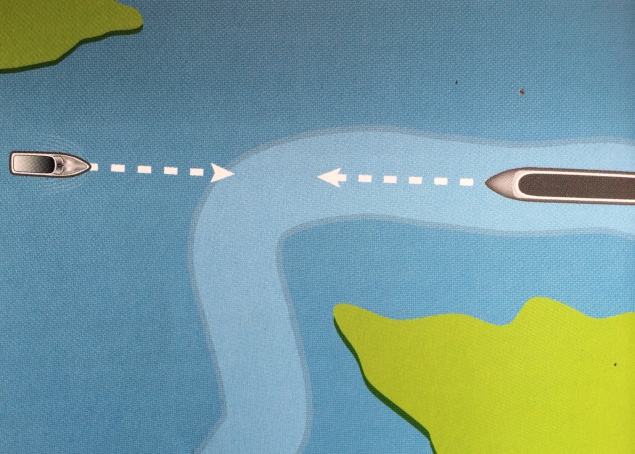 A good read for those of you whom are rusty in understanding the COLREGS, the
RYA
International Regulations for Preventing collisions at Sea by Tim Bartlett
Furthermore in the MCA MGN 167 notice, "Although the use of VHF radio may be justified on occasion in collision avoidance, the provisions of the Collision Regulations should remain uppermost, as misunderstandings can arise even where the language of communication is not a problem"